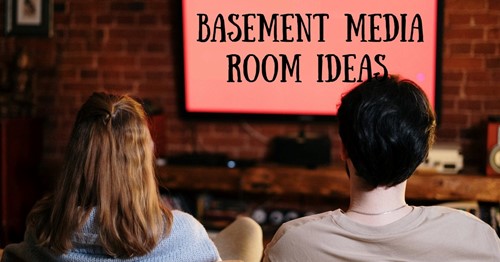 If you're considering ways to make the most of unused space, consider a media room basement. Ideas like basement media rooms are perfect for those with finished and unfinished basements alike.
Whether you want to create a private movie theater complete with surround sound system, or a comfy space to game with perfect lighting, a media room makes an excellent addition to any home.
But how do you go about transforming your basement into a media room?
Start with sound
Proper sound setup is one of the most important aspects of a great media room space. It's also one of the most potentially difficult to install. While it all depends on your preference and desired level of complexity, it's a good idea to plan your surround sound system layout before making other major changes.
Map out locations on the walls or ceiling if you're planning to mount a floating or hanging speaker system. Also, consider cable management solutions for safety and less cord clutter when creating your soundscape.
Adjust acoustics
In addition to the actual electronic sound devices, you'll want to plan for optimal acoustics in your basement media room or home theater. In unfinished basements or basements without much decoration, sound can echo off empty walls and floors.
To mitigate this and improve sound quality, hang heavy fabric drapes along the walls, or attach foam panels to soften the noise. A comfy area rug will tie the room together while also adding more padding for your audio experience.
Lighting matters
Lighting is also key to the quality of your entertainment experience, and some basements can be tricky. While it might seem ideal to have a dark basement media room, you want to have enough ambient lighting to safely maneuver and to avoid eye strain.
Try installing LED light strips underneath shelves and furniture edges for a futuristic yet functional approach. Any large light fixtures should use shades to soften the glow to minimize pesky screen glare.
Are you ready to turn your basement into the perfect media space? Along with comfortable seating and your favorite snacks, these are the most important things to remember when creating the perfect place for your next movie night.